ZALORA is Asia's Leading Online Fashion Destination and exists for the millions of fashion consumers in Asia seeking a shopping experience focused on their unique styles, trends and fit.

Founded in 2012, ZALORA has a presence in Singapore, Indonesia, Malaysia, Brunei, the Philippines, Hong Kong, Macau, and Taiwan.

ZALORA offers an extensive collection of top international and local brands as well as in-house labels across apparel, shoes and accessories for men and women. ZALORA is part of Global Fashion Group, the world's leader in online fashion for emerging markets.


ZALORA is Asia's Leading Online Fashion Destination.
We are part of the digital fashion revolution, utilising our platform to make the most desirable fashion accessible to everyone in Asia. We operate at professional standards with unparalleled reach and growth in eight different countries.
In a short span of a few years, we have surpassed expectations and reached milestone after milestone, moving from startup to trusted brand and partner.
There are no jobs in ZALORA, only careers. We offer exciting roles in Fashion Design, Retail Merchandising, Digital Marketing, Logistics, IT/Engineering, Business Intelligence, Finance, Human Resources and more.
Our engaging and diverse work environment is where groundbreaking concepts take off and fresh ideas get their chance to shine. We practice integrity, teamwork, ownership and excellence, valuing everyone's opinion and rising to every challenge.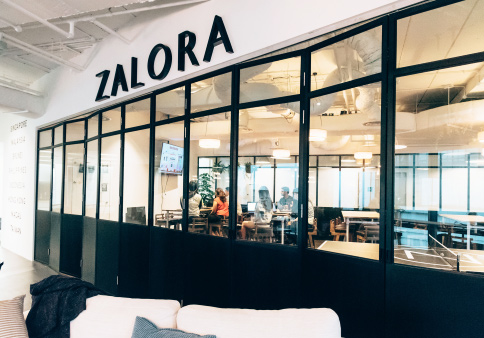 While we're always looking at the big picture, we never forget the small details. As one of the most dynamic places to work in Asia, we know how to have fun and celebrate the victories - big or small - along the way.
We welcome creative and dynamic individuals who strive for personal and professional development. In return, we are committed to bringing out the best in you by offering opportunities for advancement and growth, and providing a life-changing career like no other.
Think you're the right fit? Join us on this journey today! Browse our career listings or send your resume to careers@zalora.com and we'll be in touch.
WE ARE…

Innovative thinkers, passionate about making the most desirable fashion accessible
to everyone in Asia.


WE ASPIRE…

To become a trusted brand our customers love, a respected partner to the fashion world,
and a leading employer in Asia.


WE PRACTICE…

Integrity

Teamwork

Ownership

Excellence


WE STRIVE…

To Be Asia's #1 Online Fashion Destination.



Learn more
about Private Label
Design


Buying


Planning
Private Label
The Private Label department encompasses ZALORA's in-house brands: ZALORA label, Zalia, Something borrowed, 2401 and Velvet. From designers, buyers, merchandisers and the production team - The Private label team work hand in hand to bring trendy and affordable fashion to our consumers.
Our collections are constantly adapting and evolving to offer our customers the best in fashion, quality and price. The team also works closely with functions like Marketing, Logistics, Operations and IT to make the whole process smooth and streamlined.
If product design is your passion and you enjoy creating unique and exciting ranges then this is the place for you.
See all job listings
Design & product development
The Design team plays an important role in the Private Label department. A Designer creates, designs, plans and develops ranges. They scout the up-and-coming trends, create trend boards, and check out the latest fashion shows to forecast trends for our collections. They use their knowledge of colour, fabric and print, to source inspiration around the world and turn it into trend-led products that you see on our ZALORA website. They also work closely with Buying and Planning teams to guarantee our ranges are fashion-focused and commercial.
See all job listings
Buying
Buyers in the Private label team works to ensure ZALORA is first in identifying emerging trends and translating these into fashion stories our customers will love and believe in. They work closely with the Design teams and suppliers to ensure we capture the season's must-have pieces to excite and delight the customer. The key responsibilities are trend forecast, range planning and pricing. They work closely with the planning team to drive department sales and profit, and to maintain key relationships with the supply base in order to achieve best prices and quality.
See all job listings
Planning
Planners expand into our brand's vision and guides it towards financial opportunity by means of category, occasion, price points and sales targets. They manage the buying planning process across all categories/brands. They work closely with buyers to plan product ranges, manage inventory and monitor sales performance. The planner is also responsible to ensure that our collections will drive sales volume needed to hit the brand's financial targets.
See all job listings

Learn more
about Engineering
Product Management


Engineers


Data Scientists
Devops engineers
Engineering
The Engineering group at ZALORA leverages on technology to make the customer experience seamless. We own the website (look, feel and features), our iOS and Android apps, internal supply-chain, warehouse management systems, customer service solutions and data/decision engines.
ZALORA has a "technology" soul and the Engineering team is it.
See all job listings
Product Management
The Product Management team in Engineering leads the vision of ZALORA's products. Should we be app-only? Are we able to convert customers better on the app? What is the best-selling SKU on the website versus on the app? Will a new loyalty program help our customer retention? On a typical day, our product managers are attempting to answer one or more of these complex questions objectively.
See all job listings
Engineers
The Engineers in our development team deal with implementing the ideas that make the final cut. They put together a scalable, working solution to the problems posed by our customers and by our product team. We release features on a continuous basis and we strive to iteratively improve the products that we ship. Our engineers dabble in Go, PHP, Objective C and Java primarily but also in Haskell, Swift, Python and other esoteric technologies.
See all job listings
Data Scientists
The Data Scientists/Data Engineers in the team try to manage our ever-exploding datasets. They build and manage our single-source-of-truth data warehouses and allow the data-focused managers across all our functional teams to get the most accurate picture of our business at their fingertips. This group deals with difficult machine-learning topics, personalisation, recommendations, search and discovery on our site.
See all job listings
Devops engineers
The Devops engineers in our team ensure our systems scale and remain up 24/7. ZALORA has a set of high-traffic websites and apps and this is critical to our business operations. This team consist people who are very passionate about building a fault-tolerant, self-healing and easy-to-scale infrastructure. Our infrastructure is checked into version control and uses a bunch of AWS APIs to auto-scale.
See all job listings

Learn more
about Buying


Buyers


Planners


Buying Operations
Buying
ZALORA aims to be the one-stop online fashion retailer which will cater towards our customers' fashion needs and preferences. It has over 400 brands of leading international, local and a wide range of in-house brands. With our continuous effort to be the leading online fashion retailer in Asia, the Buying Department plays an important role for ZALORA to achieve this goal.
The Buying Department is responsible for the category, brand, and product assortment of ZALORA's international and local brand portfolio, on both a country and regional level. With a dynamic team comprising of buyers, planners, and support functions, the department is also involved in actively signing on new brands as well as managing sales, stock, and margin targets efficiently. The Buying Department also works closely with other functions such as Marketing and Logistics in order to offer the best customer service to our shoppers.
See all job listings
Buyers
Besides their primary responsibilities of forecasting, reviewing and selecting a range of products to sell from their key suppliers, the buyers also source for potential suppliers and new merchandise to ensure that the product assortments are kept up to date with market trends. By fully understanding the customer needs, they are able to maximise profits and provide a commercially viable range of products at competitive prices. Aged stocks are also effectively managed by the buyers through discounting or returning to suppliers.
See all job listings
Planners
Planners manage the buying planning process across all categories/brands. Through analysis of historical sales performance, they work closely with the buyers to plan product ranges and ensure that the product assortments are bought in line with the target market. The planners also closely monitor the current sales performance/stock levels and devise action plans (e.g. sales campaigns, markdowns) with the buyers to improve it.
See all job listings
Buying Operations
The Operations team works closely with the buyers to ensure that the brands/products are successfully created and updated on the website. The team also acts as a primary contact between the Warehouse and buyers in managing stock. They constantly review and streamline the operational process flow to reduce costs and maximise efficiency.
See all job listings

Learn more
about Marketplace
Seller acquisition


Operations


Seller relationship management
Marketplace
The concept of the ZALORA Marketplace was born out of a desire to provide a unique and exclusive platform for third-party sellers to kick-start their dreams of working in the fashion industry through selling their products via the Global Fashion Group (GFG) platform. Unlike traditional catalogs which operate on a B2C model, the ZALORA Marketplace acts as a bridge between customers and sellers. Through exclusive seller acquisition, comprehensive operational efforts and active engagement with sellers to build healthy and long-lasting relationships, the ZALORA Marketplace works via a highly collaborative model to provide a fun, transparent and fuss-free platform for both customers and sellers.
In order to encourage continued engagement and communication with sellers, the ZALORA Marketplace employs the use of the Seller Center platform which serves as a one-stop center for sellers to manage their stores. The platform allows sellers to create their own storefront in the ZALORA Marketplace, upload new images and content, manage prices and stock levels, process orders and invoicing as well as to obtain sales data & a financial overview on how their business is doing. Also present within Seller Center, the Seller Academy provides new sellers with a wealth of information on a wide variety of topics to aid them as they begin their journey with the Global Fashion Group.
See all job listings
Seller acquisition
Marketplace's seller acquisition managers (SAMs) are always on the lookout unique brands with limitless potential out in the market. With a keen eye for spotting new talent, SAMs are involved in the process even before onboarding takes place. From lead generation to getting to know the unique story behind each seller's boutique, SAMs will eventually sign on new sellers upon ascertaining their suitability.
See all job listings
Operations
Upon being signed as new sellers on ZALORA Marketplace, sellers will be handed to the Operations team. Ensuring that the day to day operations of the Marketplace are smooth and problem-free, the Operations team assists Sellers in the onboarding process by ensuring that they are able to meet certain KPI before pushing them out to the actual ZALORA Marketplace. The Operations team is also involved in the management of 3rd party logistics providers (3PLs) to ensure that the ZALORA Marketplace stays competitive in its shipping rates.
See all job listings
Seller relationship management
Once they have been successfully onboarded, new Sellers will be handed over to Seller Relationship Managers who will be the primary point of contact for Sellers from here on. The main job of this team is to foster a healthy and long-lasting relationship with Sellers by providing them with opportunities and offering tips and key industry insights to help sellers better market themselves.
See all job listings

Learn more
about Operations
Logistics


Customer Experience & Customer Service


Production
Operations
ZALORA Operations strives to streamline processes with the aim to increase productivity and efficiency. The team is always seeking new ways of working and every day is a new challenge. The Operations team is structured into three main departments – Logistics, Customer Service and Customer Experience, and Production.
See all job listings
Logistics
The Logistics team ensures that your order reaches your door-step in the smoothest way possible. A huge network of logistics partners and our motivated team allow us to move goods from a wide range of suppliers worldwide in a timely and cost effective manner, giving us the ability to offer the widest selection of trendy fashion goods at any price point. The team strives to maintain the most efficient warehouse operation and delivery network in the region to ensure our customers enjoy e-commerce the way it should be; convenient and hassle-free customer experience and customer service.
See all job listings
Customer Experience & Customer Service
ZALORA is passionate about fashion and about our customers, and we believe in delivering outstanding customer experience at all touch points across the customer journey – on the website, products, delivery and customer service. Leveraging on customer feedback and metrics, current customer problems are identified and we drive initiatives with other teams across the business to eliminate these issues for future customers. We plan and pre-empt for potential concerns with the aim to provide the most customer-centric experience possible.
Delivering exceptional customer service is of utmost priority to us. Our customer support team span across our ventures, and has been expanding significantly. We resolve customer problems via various communication methods such as phone, email or live chat. Customer service agents are indispensable as they are the voice of the company and they are the first human contact customers have with ZALORA production
See all job listings
Production
ZALORA Production team handles every aspect in creating the online catalogue - covering from model sourcing, hair and make-up, styling, photography, image retouching, product descriptions to quality assurance. We ensure that the standards of what customers see on the site are consistent and pass our criterions. Besides our online catalogue, the Production Studio also supports PR and Marketing with editorials and video campaigns, as well as fashion events.
See all job listings

Learn more
about Business Intelligence
Business Intelligence
ZALORA Business Intelligence (BI) team works on gathering, storing, analyzing and providing access to data as well as providing high-level reports, dashboards and monitoring KPIs to help ZALORA make better decisions. The main goal of BI is to provide easy and meaningful interpretation of raw data and hence bridge the gap between the business and data (technology).
"ZALORA is a data-driven company"
ZALORA has enormous amount of data from multiple sources such as transactions, customers, operations, website traffic, customer service, supply-chain etc. All this data is just like logs (read: garbage) until it is cleaned, structured and analyzed properly. BI handles this large amount of unstructured and structured data to help identify, develop and/or create new strategic business opportunities. Common functions of business intelligence are reporting, online analytical processing, analytics, data mining, business performance management, benchmarking, predictive analytics and prescriptive analytics.
Along with this we also work for Payments and are responsible for getting new payment methods on ZALORA website, support payment channel innovations and optimization, payment channel security and revenue protection across all ventures in ZALORA.
See all job listings